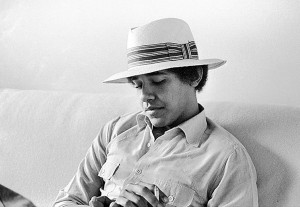 There is so much more going on than just the issues. There are issues with the issues. There is an undercurrent of non-public issues flowing through the veins of every American in regard to our president, Barack Hussein Obama. Whether you admit to it or not, a Black president named Barack Hussein Obama, made it to office….Fricking amazing.
Just the fact that a Black man named Barack Hussein Obama was elected to the presidency should make all Americans proud, unless you're a white supremiscist. Obviously that doesn't work for you, but you're so stupid, who cares?
You're so stupid, it never occured to you that a Black Man could ever be considered for the presidency of the United States of America. And after it happened, it was too late. Stupid f***.
Common Sense takes a giant leap into the abyss.
Whether you want to admit it or not, it changed the racial landscape in the United States of America, if for no other reason than it empowered a segment of a segment. It built a bridge of hope and validated confidence in all of us, period. The monumental event of an African-American person being elected to the highest office in the United States of America, the most powerful country on earth, resonated with the entire world and opened minds (except those cemented shut by hate and ignorance).
And what did we learn? That no matter what , there are still nimrods and closed minded curmudgeons determined to realize their own self fulfilling prophecy of self-destruction, and drag as many down with them as they can. I don't know why people mentally or ideologically shutdown and snuff out any glimmer of a new thought or idea, but it irritates the hell out of me.
But they're insignificant anyway right? They're not here to help, so let's move on
Political Ideology
Politicians don't care if you're black, white, brown, red, yellow or plaid. They only care about how well you're doing in the polls. From a racial perspective, that's actually refreshing. Societally, it's diasterous.
Career politicians, as a category, have a conflict of interest. As a career politician, your first allegiance is job security, which means you make decisions that benefit you before your constituency. That's a problem.
Time to start taking steps to eliminate "Career Politicians".
Real Deal
Everybody's truth is different. Truth is not facts. I'm looking at it from this perspective; President Barack Hussein Obama is 14 days older than I am. If we went to school together, I'd have played ball with him. We both grew up in the USA and were influenced by many of the same things. Chronologically and emotionally we experienced many of the same things around the same time. Lot of the same shit was going on when shit was going on with us. There's a common bond there. To deny that is short sighted and ignorant.
Here's what I'm asking you to do; put aside your prejudice, pressumption and party affiliation. Own that you're approximately the same age and grew up in the same time as the man who lives at 1600 Pennsylvania Ave, who runs your country and seriously contemplate what you would do in his place. If that doesn't scare the shit out of you, you're not being honest, are you?
You can click off this page, but you can't click off your conscience ( and if you can, please unfriend me on facebook).