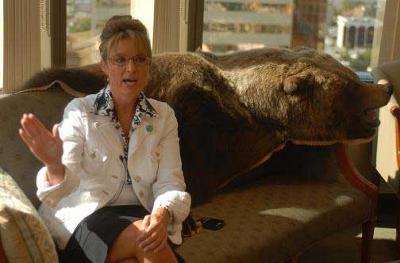 Americans are obviously stupid.  A character attack from Gov. Palin?  Shards of fallen glass from what was once your roof surround you.
Excerpt from Branchflower Report: (Oct. 11th, 2008)

Governor Palin knowingly permitted a situation to continue where impermissible pressure was placed on several subordinates in order to advance a personal agenda, to wit: to get Trooper Michael Wooten fired. She had the authority and power to require Mr. Palin to cease contacting subordinates, but she failed to act.
Such impermissible and repeated contacts create conflicts of interests for subordinate employees who must choose to either please a superior or run the risk of facing that superioor run the risk of facing that superior's displeasure and the possible consequences of such displeasure. This was one of the very reasons the Ethics Act was promulgated by the Legislature.
***
Governor Palin has stated publicly that she and her family feared Trooper Wooten. Yet the evidence presented has been inconsistent with such claims of fear. The testimony from Trooper Wheeler, who was part of her security detail from the start, was that shortly after elected to office, she ordered a substantial reduction in manpower in her personal protection detail … an act that is inconsistent with a desire to avoid harm from Trooper Wooten or others.
…It is noteworthy that in almost every contact with the subordinate employees, Mr. Palin's comments were couched in terms of his desire to see Trooper Wooten fired for reasons that had nothing to do with fear. His comments were always couched in terms that he was a bad Trooper, that he was not a good recruiting image for the AST, that his discipline amounted to nothing more than a slap on the wrist, that nothing had happened to him following the administrative investigation, and so forth…
I conclude that such claims of fear were not bona fide and were offered to provide cover for the Palins' real motivation: to get Trooper Wooten fired for personal family related reasons.
~~~~~
IFILL: Governor, please if you want to respond to what he said about Senator McCain's comments about health care?
PALIN: I would like to respond about the tax increases.
~~~~~
IFILL: Would you like to have an opportunity to answer that before we move on?
PALIN: I'm still on the tax thing … I may not answer the questions the way that either the moderator or you want to hear…
~~~~~
Of course this is ridiculous. I hope he has had many conversations with Bill Ayers. Prof Ayers is a leader in school improvement. Read his bio. He is a distinguished professor at a major University and has contributed a lot to the field of education. The Woods Fund is a foundation that supports grassroots change efforts. Its an admirable foundation. This and the plagarism charge demonstrate who is acting like politics as usual. Can it get anymore stupid? I am afraid so.
~~~~~
Yet Chryson maintains that his party remains committed to full independence. "The Alaskan Independence Party has got links to almost every independence-minded movement in the world," Chryson exclaimed. "And Alaska is not the only place that's about separation. There's at least 30 different states that are talking about some type of separation from the United States."
~~~~~
According to Governor Sarah Palin's former staff member Larry Persily, the Governor thought it was a good idea and planned to make an appearance on G.Gordon Liddy's program. When suggested that a Watergate operative may not be a smart choice, Arctic Power co-chair, Mike Navarre, suggested most people didn't know of Liddy's background and his role in President Nixon's administration and demise.
~~~~~
Sarah Palin attacking Barack Obama's relationship with William Ayers is ironic. She's playing a pit bull, but it's not the Palin we know. The Palin we know wouldn't have known who William Ayers was.
~~~~~
Todd:
Hey, honey…
Sarah:
Yuh (from the kitchen)
Todd:
Get me a beer?
Sarah:
You betcha